Slan agus go raibh mile maith agat Clionadh
20th Jun 2011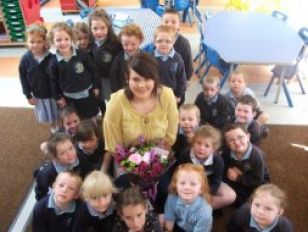 Today we bid a very sad farewell to our Irish Language Tutor Clionadh who had become a very important part of our school team. Each Monday Clionadh taught the P1-P4 pupils Irish through story, song, rhyme and picture and all of the children responded so positively to her engaging teaching style. Sadly Clionadh leaves us to return to college but fingers crossed we hope to see her in the not too distant future.

The Irish language programme is made possible through funding from the Primary
Modern Languages Programme (Department of Education).
St. Mary's Primary School, 22 West Street, Stewartstown, Co Tyrone, BT1 5HT
Telephone: (028) 877 383 88 | Email: mhamill472@c2kni.net