Genevieve the goat visits St. Mary's
24th Oct 2011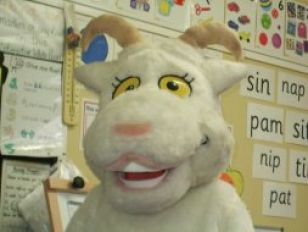 The Ulster Cancer Foundation brought Genevieve, a life-sized goat, to visit St. Mary's Primary School, Stewartstown, Dungannon on Thursday 20th October to encourage the Primary one, two, three and four children to eat more fruit and vegetables and to take regular exercise.
Genevieve plays the leading role in the 'Starring Genevieve' book, along with another one called 'Genevieve and the Farmyard Olympics', educational resources developed by the Ulster Cancer Foundation, with support from Lidl Northern Ireland.
Clare Smith, Cancer Prevention Officer, UCF said: "The story of Genevieve and her friends has been designed to introduce healthy lifestyle messages to children at an age when research shows that they are most receptive.
"Poor nutrition and lack of physical activity have been shown to lead to obesity and an increased risk of cancers and other serious health conditions." Experts believe that around a third of all cancer deaths could be prevented by improved nutrition.
St. Mary's Primary School, 22 West Street, Stewartstown, Co Tyrone, BT1 5HT Telephone:028 877 383 88 Email: mhamill472@c2kni.net