Cooking…….Class!
29th Nov 2009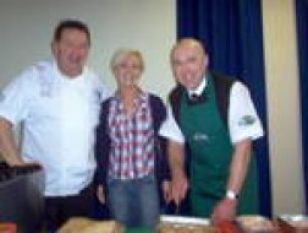 Thanks to funding from the Cluster Extended Schools Programme St. Mary's P.S., Stewartstown, Ballytrea P.S., Coagh P.S. and Stewartstown Number 1 P.S., were able to offer an evening of cookery demonstrations for parents and the local community. It was held in Ballytrea Primary School on Thursday 19th November. A very enjoyable was had by all!
Kevin Lowe, Stewartstown's local butcher and Mr Bob Mc Donald, chef from Deli on the Green, Dungannon, were asked to present ideas and tips to the community on how to cook a healthy family diet while sticking to a budget.
Due to the huge success of this activity, another night has been planned for March 2010. This time the presenters will be focusing on ideas for the Barbeque and will be held in our school. Details will be given nearer the date.
St. Mary's Primary School, 22 West Street, Stewartstown, Co Tyrone, BT1 5HT Telephone:028 877 383 88 Email: mhamill472@c2kni.net