Stewartstown Community Group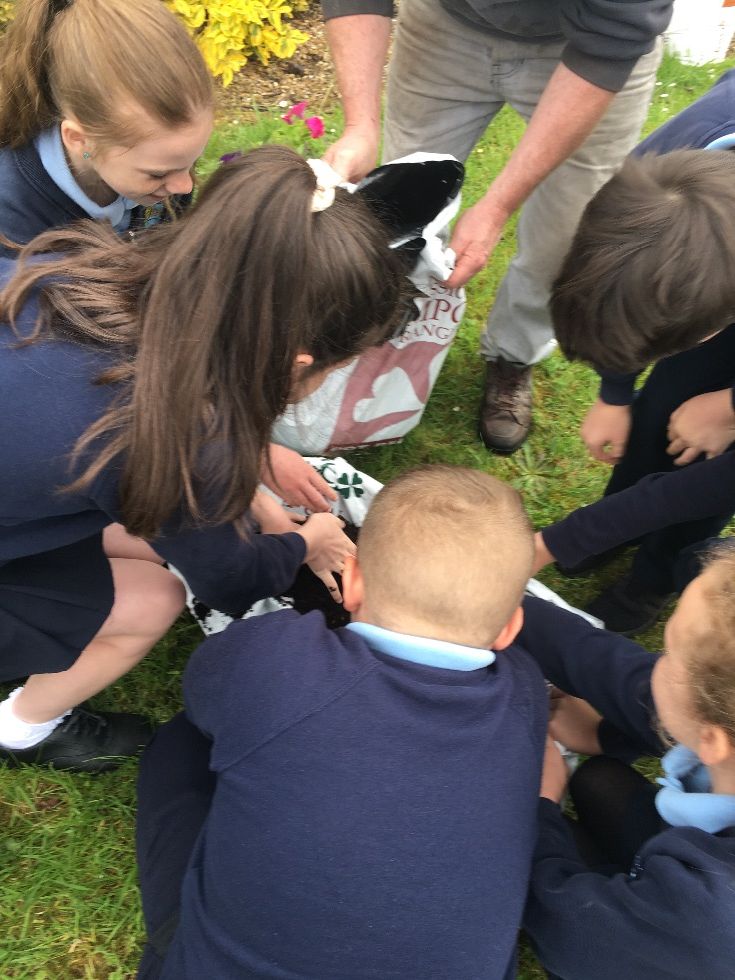 Housing Executive kindly donated 2 window baskets for the school. Stewartstown Community Group supported the children in creating the baskets.
RSPB Award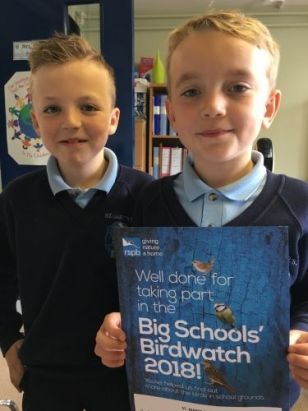 P4 children proudly display their RSPB certificate awarded following their Spring bird watch.
Willow Weaving May 18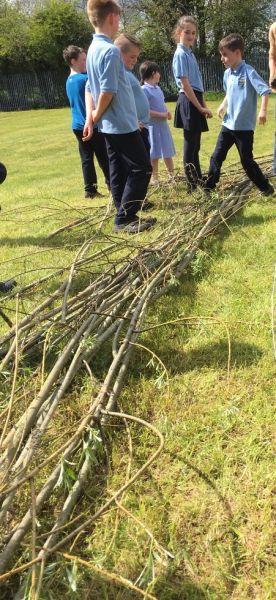 It was hard work but we managed it. Part one of the Wildflower Garden underway.
Garden to Fork April 18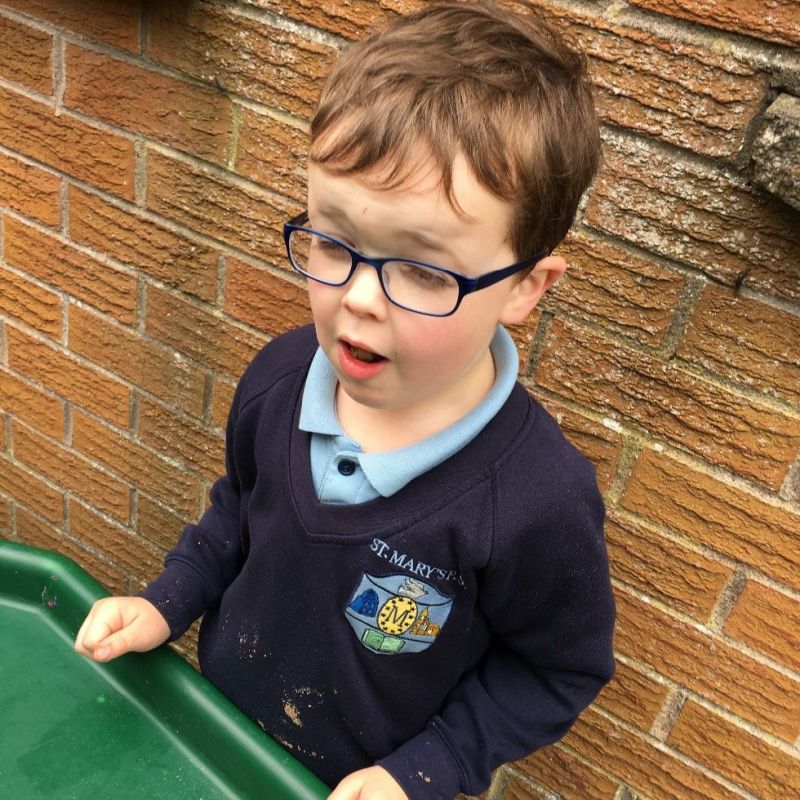 Rhubarb harvesting by the P 1 children. Schools of kitchen made a delicious rhubarb tart. Yum yum.
Big Spring Clean Up March 18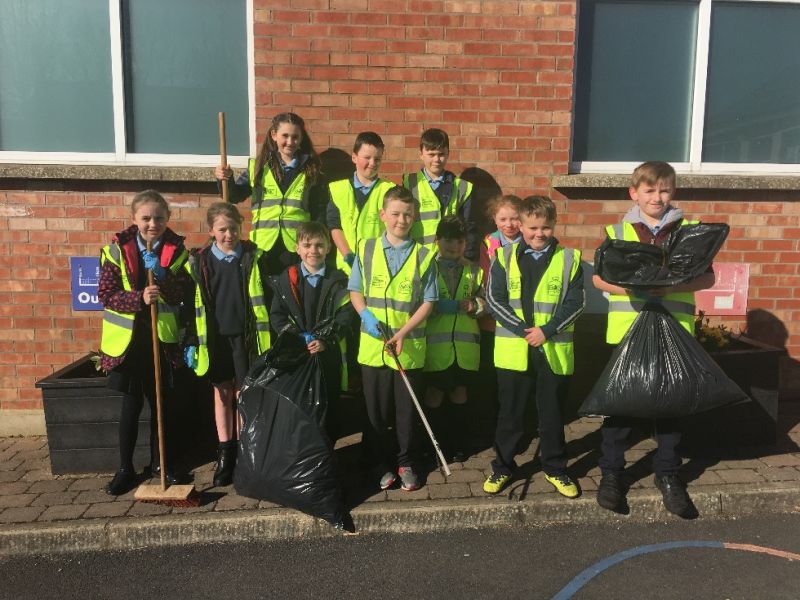 Vegetable Garden March 18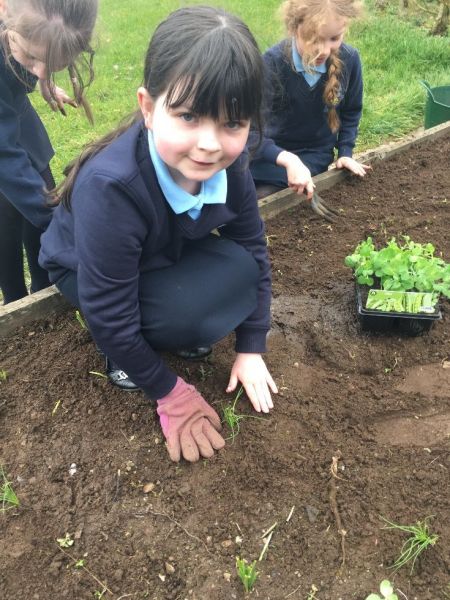 Getting busy in the vegetable garden. Planting beans, peas, cabbage, turnip and even a bit of lettuce.
Spring has Sprung March 18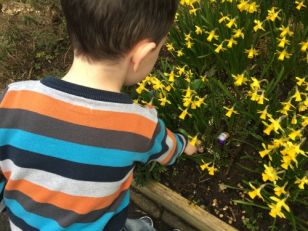 Delighted to see that Spring has finally sprung after all the snow and bitter cold weather. The sign of daffodils around School is a welcome sign of God's presence in Spring.
Big Bird Watch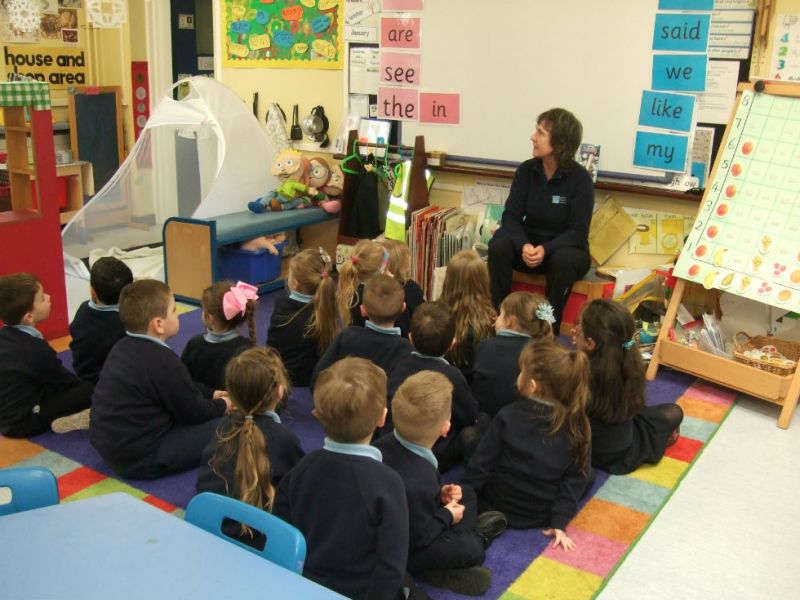 Thanks to Karen Shiels for supporting the school with the Big Bird Watch and encouraging our younger pupils to continue their hard work looking after and feeding the birds in Winter.
Crocus Project October 2017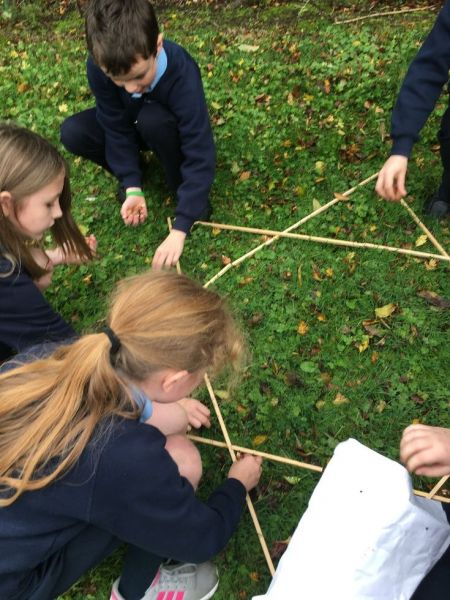 Gardening Club planted crocus bulbs today in the shape of the Star of David to commemorate all of the Jewish children who lost their lives in World War II.
The children will look forward to seeing the little shoots emerge in the Spring.
Gardening Club Term 1 2017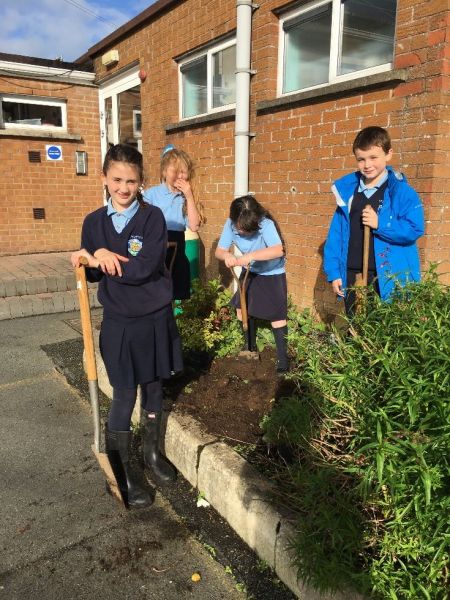 Eco Council l 2017-18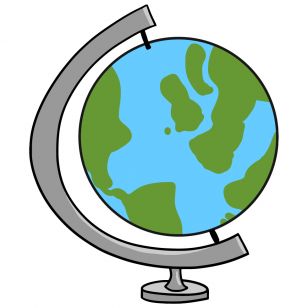 Eco council for this year. Three sub committees representing: ENERGY, SCHOOL GROUNDS & GLOBAL PERSPECTIVES.
Developing our Eco School Code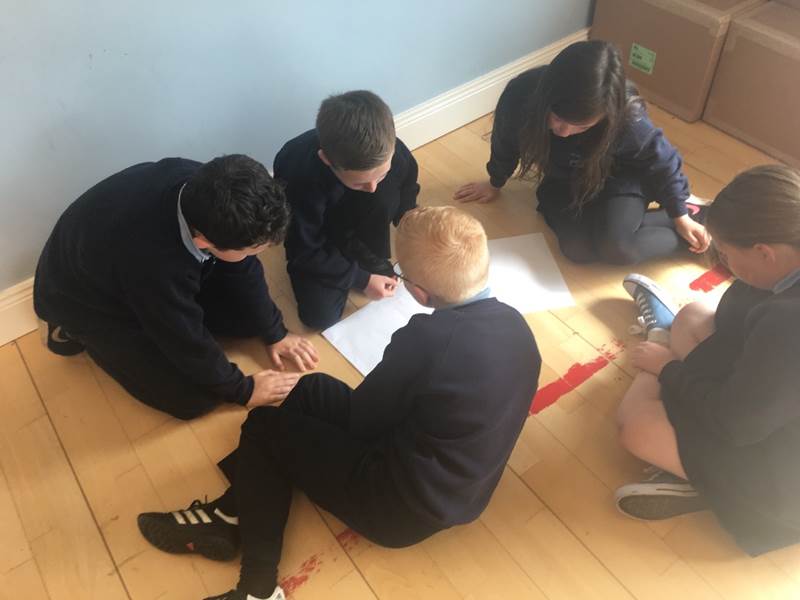 Wildflower Planting and signage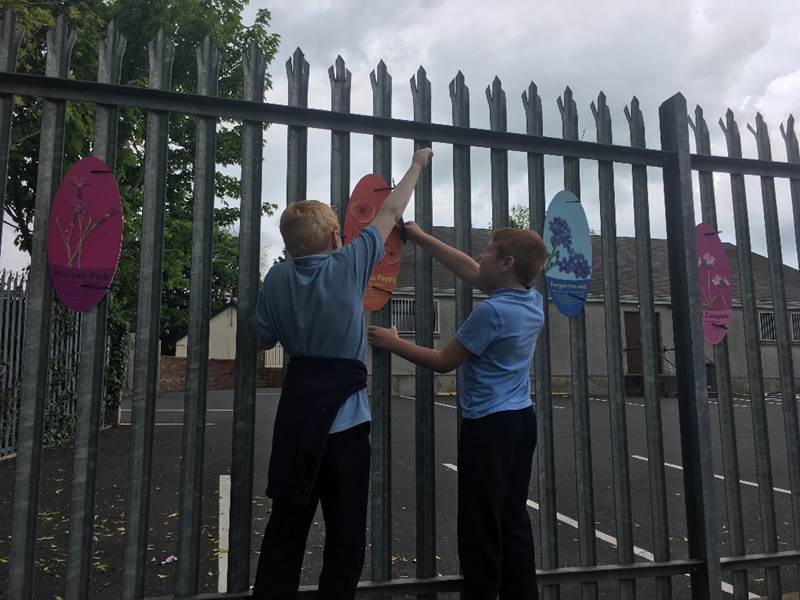 Summer Planting
P6 and 7 planting sunflowers, peas and rocket.
Minibeast Mansion April 2017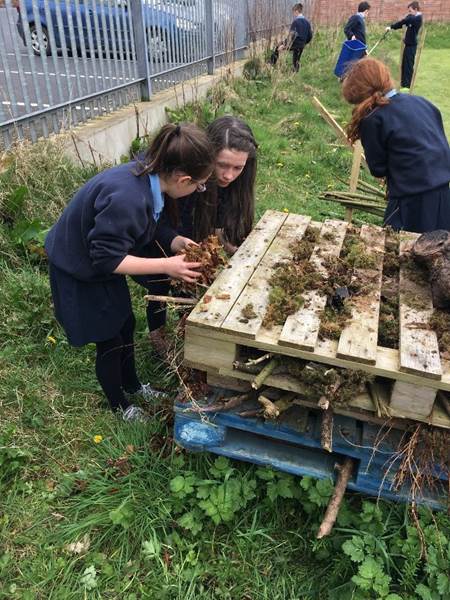 Wildflower Area 2016-17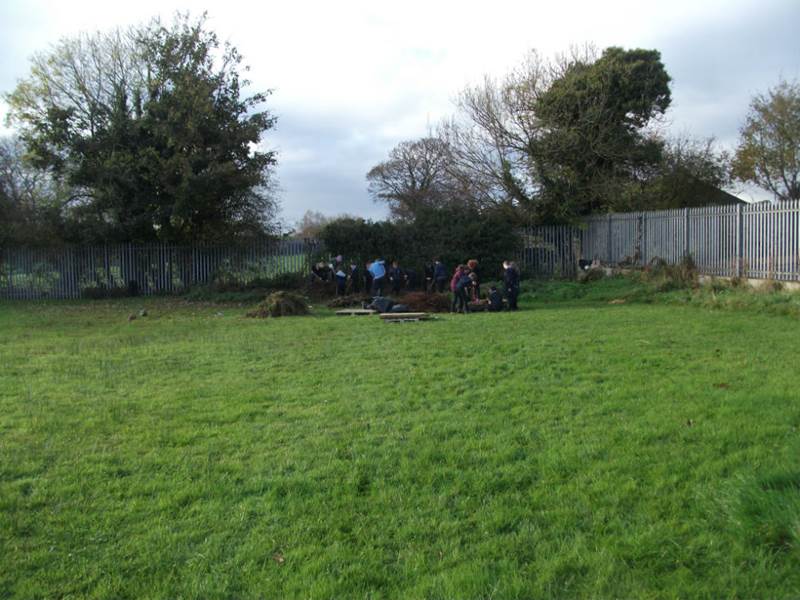 Drumcairn Scavenger Hunt Autumn 2016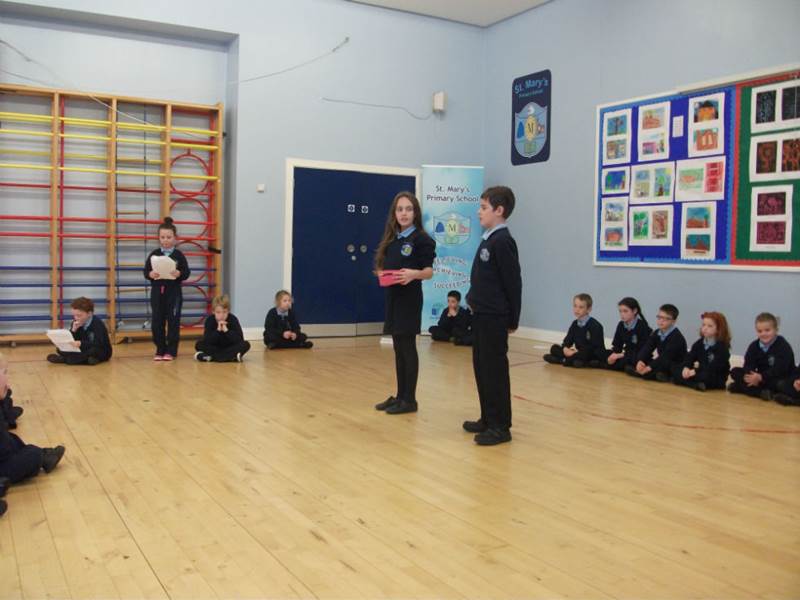 Best Kept school
Eco School Committee News
St Mary's was been awarded winners in the Best Kept Primary School 2013 (SELB ) well done to our active Eco Team and Gardening Club
St Mary's has gone green – not in the colour sense but as responsible citizens, looking after their environment and being sustainable. The four areas have been identified following a school audit which spell out B.R.E.W. :
BIO DIVERSITY: B Team Captain:

An outdoor area funded by Big Lottery has contributed greatly to the school environment. In the first term the pupils have planted, wed and harvested fruit and vegetables. Apple, pear and plum trees surround the school perimeter, with rhubarb, strawberries, gooseberries and various herbs bordering the three main raised beds. This year potatoes, carrots, onions, beetroot, peas and beans have been planted.
RECYCLING: R Team Captain:

The school also has a dedicated area where children can recycle their empty ink cartridges and old and unwanted mobile phones. The group have in the past sent the collections to recycling companies and the monies made have gone towards the outdoor gardening area. This year we have recycled plastic bags and plastic bottles to create sculptures for our garden. We promote recycling of scrap paper in all classrooms and monitor how they use their waste bins. Each half term we award the efforts of the best recycling class.
ENERGY: E Team captain:
The dedicated group have in the past informed the school at assembly about how to keep St Mary's green and have been busy placing notices at bins and light switches in each of the classrooms in order to meet our energy targets. A monitor ensures that classroom doors and entrance and exit doors are kept closed to reduce heat escaping. This year they will be keeping a close eye on our energy consumption and ways that we might decrease it.
WASTE: W Team Captain:
This years efforts will concentrate on reduction in the amount of waste we produce. The Eco Committee will drive forward a whole school awareness campaign to reduce our waste in school.

http://www.eco-schools.org.uk/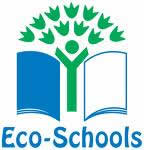 St. Mary's Primary School, 22 West Street, Stewartstown, Co Tyrone, BT1 5HT
Telephone: (028) 877 383 88 | Email: mhamill472@c2kni.net