Dedication to St Mary's
19th Dec 2009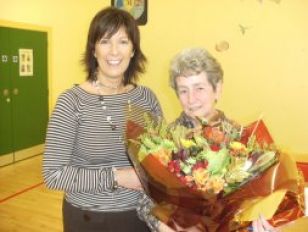 St Mary's pupils and staff took time out of their busy Christmas week to
show their appreciation towards their school secretary. Mrs Patricia
Kells has provided over 30 years of dedicated service to St Mary's
Primary school. The staff and pupils really wanted to make sure that she
understood how important she is to our school and so decided to mark the
occasion with a special presentation of crystal and flowers.
St. Mary's Primary School, 22 West Street, Stewartstown, Co Tyrone, BT1 5HT Telephone:028 877 383 88 Email: mhamill472@c2kni.net